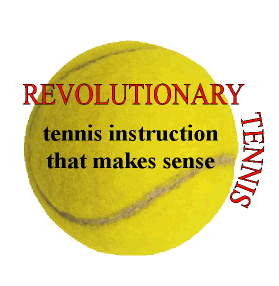 Head-On
Strike A Pose
From Tennis Magazine, nov/dec 2007: "Master Class > Tips From The Nation's Top Pros"
Strike a pose
Every time you set up to hit a shot, you're in a race with the ball. Will it pass you before you can get into position to strike it cleanly? Preparing to his a shot is like posing for a picture. For every ball that comes your way, you need to set up your racquet and get your body into position and balanced next time you play, move quickly enough so you have time to pause and set up as if you were posing for a picture. If you can do this consistently, you'll never lose the race.

--- Joe Dinoffer, USPTA & PTR Master Pro, Dallas
I don't know Joe Dinoffer personally, but I would bet he just cringed when this photo accompanied his piece. Why? Because I know he wants the racket to pause up above the hand (loop) and not straight back and down as the photo shows.
Of course "racket back" is not a myth, what's relevant is how it's taken back: up and back for a loop or down and straight back. The racket is held up above the hand prior to dropping it and hitting because it is all about athletic rhythm to stretch the musculature like a rubber band and develop momentum in what will be a forward delivery. The photo should show the model with the racket paused in the up position like you see in all the pros. Dropping the racket too soon even if you do the loop backswing kills the rhythm, and thus the shot. This is public enemy #1 regarding the forehand stroke, the rhythm of the drop-down - too soon and it's mush.
This photograph is pathetic. I seriously doubt Joe gave the final okay on this photo, I'd love to see a copy of his flaming email he sent Tennis Magazine over it because it is so misleading and counterproductive to readers. So the blame falls squarely on Tennis Magazine's editors for using such a bad misrepresentation of how to play the game simply. Yet another example of how tennis shoots itself in the foot.