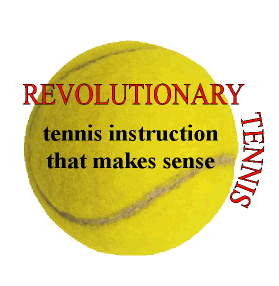 How To Apply Step 3
Your Body's Power Zone
The habits that conflict with the simple execution of Step 3's ideas are:
- you don't move your back foot first or keep it moving forward into the ball.
- your footwork pattern is off, see Step 2, and you are sideways.
- prior to contact you turn sideways, either foot.
- at contact you turn sideways because you are bracing yourself against the contact (popular on backhands).
It's new for you to be moving forward into the ball, and often you feel the strength from your body won't be there unless you turn sideways. Nothing could be further from the truth. In fact, when you turn sideways to the contact spot, you're losing strength because your body's power zone is no longer directed at the ball.
WALK INTO THE BALL
Here's that same learning procedure as before. When first walking into the ball your back foot points forward, on an angle to your one side, pointing to the eventual contact spot. Don't turn it out to the side ever. At contact keep the back foot pointing in the same direction as it has been, forward to the ball. Keep it simple.
Remind yourself to open up the front foot ('cause it will land sideways) towards the net more (not perpendicular to the net). This also improves your vision, and thus the timing of your swing onto the ball.
Move your feet heel to toe. Land on the heel and step towards the tennis ball normally. What often happens is your last step lands on its toe, effectively rocking you back away from the ball.
People often turn sideways to the ball (especially on backhands) as a way to brace themselves against the contact. As you hit the ball toward your opponent, physics' equal and opposite reaction comes into play. In essence, the ball hits you back.
Don't brace yourself against the contact. You've been moving and you're not expected to stop, literally, and stand still to hit. Shift (your body weight) into the ball.