First, A Question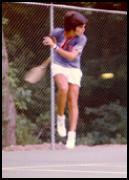 Let me start with a question to illustrate the Revolutionary Tennis information. Which would you rather have, the best tennis strokes in the world or the best tennis body in the world? If you're like most players you'd rather have the best strokes, but what good are they if you can't get to the ball, if you feel awkward when you swing, or if you want more power when you hit and keep it in?
Okay, now you've changed your answer. You'd rather have the best tennis body in the world, but I'm not talking about speed, strength, agility, better body rotation, timing, or hand eye coordination. Or even youth. What am I talking about?
YOUR BODY SUPPORTS YOUR STROKES
LIKE A FOUNDATION SUPPORTS A HOUSE
Wood racket, and black hair. The good old days. © Photo: S. Zimble
Focusing on your strokes to improve your game is like missing the forest for the trees. Your body acts as a foundation that supports, or empowers, your stroke when you try to hit the ball, not your arm or upper body strength. As an example you don't stand sideways to a heavy box and then lift it, and weightlifters use a whole body technique to lift, not their arms.
NOW GET READY TO BE SHOCKED
If you turn sideways your body is not structuring itself to form a strong foundation to support your stroke when hitting the ball, you're weaker for it. It's a simple kinesiological fact. If you move parallel to the baseline or turn your back to the ball on a backhand, you're not structuring yourself to support your contact spot. And rotating your body for power is not the best way to establish a foundation to both hit the ball hard again and again and keep it in. There is a simpler way for power in tennis that is more cost effective in terms of amount of work and results.
IF YOUR BODY ISN'T SUPPORTING IT, 
WHAT CHANCE DOES YOUR STROKE HAVE?
Not a very good one, which means you're not consistent. And if you try to improve by working on your stroke, well, you're working on the window dressing.
Luckily, though, you are familiar with how your body structures itself to form a strong foundation in your everyday life, you know about the concepts of balance, good posture, simple human locomotion, and lifting technique. I'm just asking you to apply it within the reality that is tennis.
Not much to ask for, is it? To use what you've already got but don't because, well, you've never really looked at the game from both the game's point of view and your body's point of view. If you improve your foundation, your strokes and their results automatically improve because you'll be working less and it'll be easier for you.
A NEW UNDERSTANDING
Yes, I'm talking about a whole new way of looking at things. As consolation, remember at one time we thought the earth was flat and in the center of the universe. Hopefully the new perspective by Revolutionary Tennis will be the established fact in a few years.
But you don't have to wait a few years. You can start now.
begins the tennis revolution.