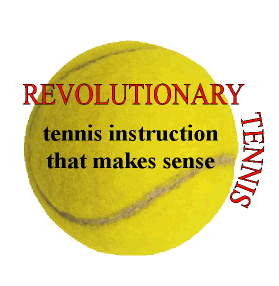 Head-On
Welcome to Head-ON, the rebuttal page that looks at teaching articles from TENNIS magazine and elsewhere to see
if the photos and words go together.
Often the well-intended writers don't see the forest for their own trees, and often this spins you out in directions that have little if anything to do with learning how to play in order to improve.
TENNIS magazine is the one major magazine for tennis players out on the market, and if you're a tennis player I suggest you buy a subscription. Publisher Chris Evert and her staff's hard work has changed this magazine's focus for the better, but as most readers and ex-readers say, forget about the instruction because it's the "same ol', same ol'." Thankfully there's lots more to the magazine than instruction.
Tennis Week Magazine, from the late Eugene L. Scott, unfortunately will be missed.
FOREHAND Open Stance and Hip Rotation Open Stance = Injury Strike A Pose