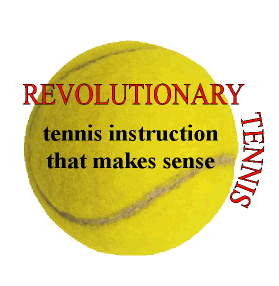 White Papers
Welcome to White Papers, individual papers offering solutions that strike at the heart of a player's improvement and that more often than not fly in the face of established teaching methodology or science evaluation. And when possible a historical perspective is added to indicate why we're in the mess we're in and how we got there regarding the convoluted how-to of teaching.

Stroke consistency: achieved by limiting the movement of the wrist or by limiting the movement of the hips and shoulders?
The use of the hand for contact: grip firmness at contact, voluntarily.
Part 1: Federer's step and hit in the semi and open stance, tennis (still) made simple.
Part 2: That old canard "Turn-Step-Hit" is still being waved around to $ell "modern" tennis, but this half-measure is exposed for its laziness and its twin identity to "Load-Explode" seen (confirmed in Part 1).
Part 3: Judge for yourself: a real sport science experiment exposed, and obvious video para-nalysis of the never-ending kind.
Part 4: The real stuff is always hiding in plain sight, just don't have any preconceptions.
EVIDENCE: WRIST SNAP ON A SERVE IS DONE ON PURPOSE
What pros call a "wrist snap" actually happens on purpose in a pro's serve, it is not a so-called "myth" that occurs due to motion dependent effects. Facts, figures, observations, and notable conclusions from a tennis pro turned Ph.D. candidate.
Which is King? Always the talk of body rotation, of "loading" and "unloading" for power. But here, in a USTA High Performance Newsletter, is the truth about all this finally being exposed? Loading and unloading are both called linear momentum. And you are left to think for yourself, without this "critical" linear momentum, can body rotation stand on its own?